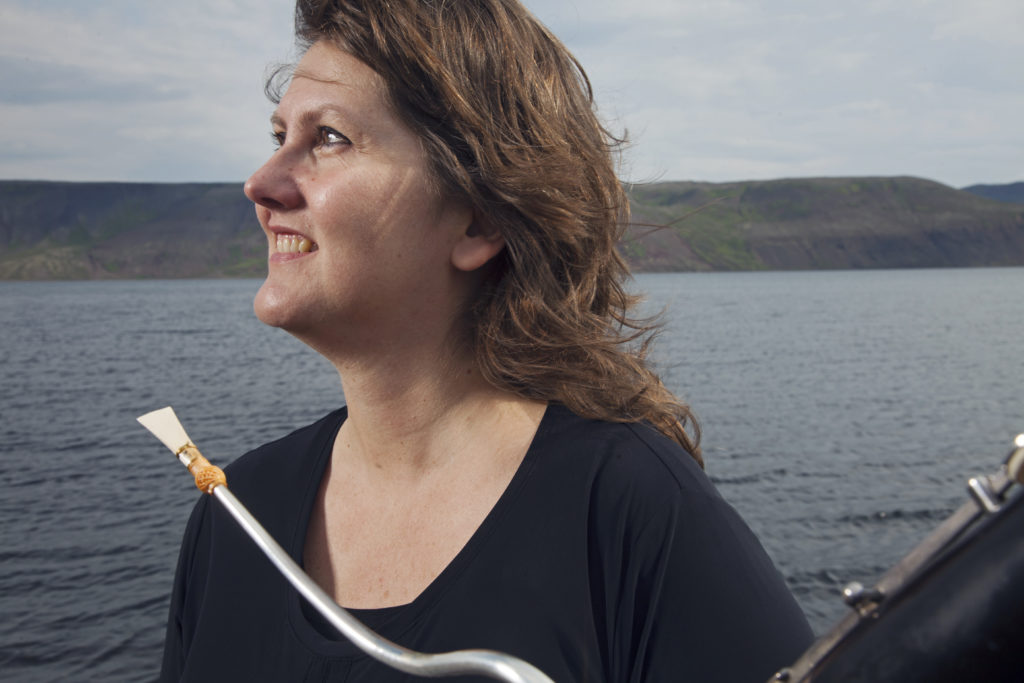 Kristín Mjöll Jakobsdóttir, bassoon
Kristín Mjöll studied bassoon at the Reykjavik College of Music in 1980-1987 with Sigurður Markússon. Kristín furthered her studies in the United States and holds a master's degree from Yale School of Music, where she studied with Arthur Weisberg. She went on to spend a year with Joep Terwey in the Netherlands and received a Certificate Diploma from the Sweelinck Conservatorium in Amsterdam. She also spent a year with William Winstead at the Cincinnati College-Conservatory of Music.
Kristín spent seven years in Hong Kong as a freelance musician and teacher, including a full year with the Hong Kong Philharmonic Orchestra. During this time she was a member of the chamber ensemble I fiati dolci and the Hong Kong Chamber Orchestra. She also produced a concert of Nordic chamber music at the Hong Kong Cultural Centre in 1995. Since moving back to her native Iceland in 1998, Kristin has been a freelance bassoonist. She has played regularly with the Iceland Symphony Orchestra, the Iceland Opera Orchestra and the Reykjavík Chamber Orchestra, as well as teaching flute, clarinet and bassoon.
Kristin has been active in the local chamber music scene and in 2003 she formed the Hnúkaþeyr Wind Octet, which has commissioned new Icelandic works for octet. She was a member of the Icelandic Wind and Piano Trio in 1999-2005, performing an extensive repertoire for oboe, bassoon and piano. In 1999 the trio performed on tour at the IDRS convention in Madison, WI, as well as in Winnipeg, Toronto, and Washington, D.C.
As a soloist, Kristín premiered Chamber Concerto V for bassoon and chamber orchestra by American composer Elliot Schwartz with the City Chamber Orchestra of Hong Kong in 2009. She has given numerous solo recitals in Iceland, Hong Kong and the USA. Kristín received stipends in 2007 and 2012 from the Icelandic government to perform and record Icelandic music for solo bassoon, the culmination of which is this CD. Her solo CD, Journey, including five world premiere recordings, was published in January 2016 by Smekkleysa.
Kristín has been influential in Icelandic music life, as chairman of the Society of Icelandic Musicians and a board member of the Federation of Icelandic Artists in 2008-2012, as well as a board member of the Reykjavik Arts Festival in 2012-2014.
Since 2003 Kristín has acted as an independent project manager and produced several art projects, including the Harpa International Music Academy, which she co-founded in 2013, music theatre projects for the Operarctic Society, andinternational tours for the Caput Ensemble and the South Iceland Chamber Choir.
Kristin is currently enrolled in a Master´s program of Applied Studies in Culture and Communication at the University of Iceland, with a secondary enrollment in Web Diploma. Along with current schoolmates she is the co-founder of a production company, Jaðarmiðlun ehf, which aims at using multimedia and virtual reality to communicate arts, culture and heritage. The founders of Jaðarmiðlun received a prize from the University of Iceland in november 2016 for their project Hidden World.